Moray Leisure Centre has excellent Ice Rink facilities catering for all ages, abilities or interests.  From skating to curling, ice hockey to figure skating; from the absolute beginner to the serious skater.
Ice skating is one of the greatest sports to enjoy. Gliding over the ice is a feeling like no other, be warned though, the feeling is addictive!
Public Session Rules & Regulations
All are very welcome on the ice at Moray Leisure Centre, but please read through our rules and regulations before coming along:
Children under the age of 5 must be accompanied on the ice by a responsible adult of at least 16 years of age whilst using the Ice Rink. There is a maximum of 2 under 5's to one adult at all times.
No skating under the influence of alcohol
No speed skating
No spraying
No chains of three or more
No playing tag or games of similar nature
No eating or drinking whilst on the ice
No sitting on the barrier
Our friendly polar bears, seals and snowmen are ideal for young children new to skating and a perfect first friend on the ice! Specially designed to support children learning to skate, this is the ideal way to build their confidence and get them used to skating on ice (subject to availability). You can pay for a skating aid at reception before entering the ice rink.
You can pre book onto a public skate session either by popping into reception or calling on 01343 550033. You can also turn up on the day.
Private Hire & Birthday Parties
Unfortunately private hire of the ice rink is not available at this moment in time. We will update this section of our website as soon as that changes.


 The Skate UK program teaches movement and basic ice skating skills for skaters of all ages in 8 clear stages. You can find out more about the course here.
To get your child enrolled onto our Learn to Skate programme, please email our lessons coordinator at [email protected]
Dance your weekday worries away at our weekly ice disco!
Every Friday from 7:30PM – 9:00PM. £4.40 including skate hire.
You can prebook either in person at reception or by calling 01343 550033.
All Ice discos are included in our Skate Pass
We have a thriving curling community at Moray Leisure centre.
Curling's Cool is a popular Scottish Curling development programme delivered at Moray Leisure Centre to local primary 6 & 7 school pupils. All sessions are led by qualified Scottish Curling coaches who aim to provide all participants with a positive learning experience.
To find out more about Curling's Cool sessions for your school, starting from September 2022, please email [email protected]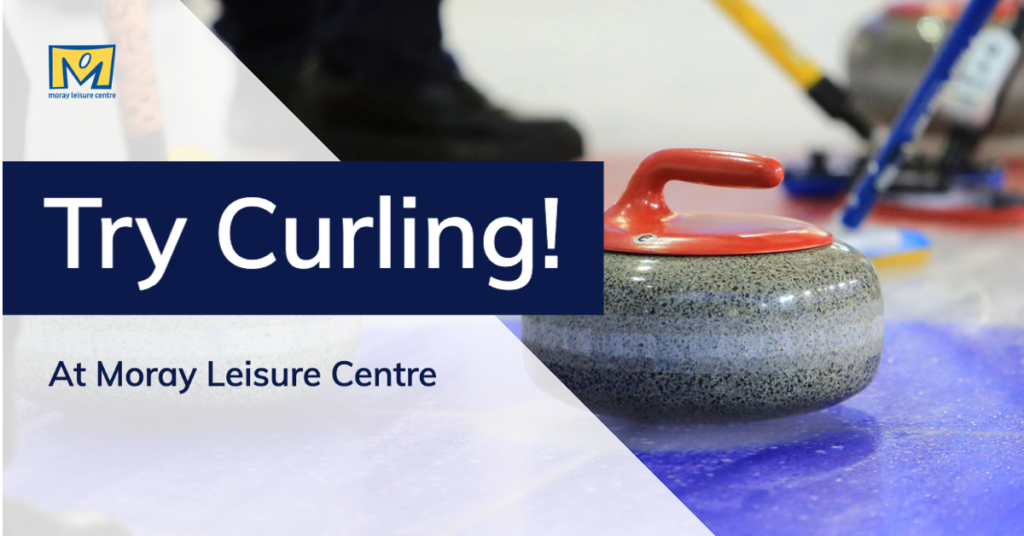 Have You Always Wanted To Try Curling?
Curling is a sport in which two teams of four players each slide 40 pound granite stones down a sheet of ice toward a target at the other end. Each team tries to get more of its stones closer to the centre of the target than the other team.
There is a great curling community here at Moray Leisure Centre with qualified coaches ready to show you the ropes!
We hold regular Try Curling sessions for people age 8+. All equipment is supplied including brushes and sliders. All you need is warm, loose fitting clothing and clean, flat, rubber soled shoes (trainers are ideal) to change into for curling. Delivery sticks allow stones to be delivered from a standing position or wheelchair and are available for those with mobility issues.
Moray Province covers 20 Clubs which are based in Moray and are classified as, "Area 13". Area 13 is a regional part of The Royal Caledonian Curling Club (Scottish Curling), the Governing body for the sport of Curling in Scotland whose principal objective is "To Unite Curlers throughout the World into one Fellowship of the Rink".
There are curling sessions (and leagues) for all ages and abilities:
try curling
beginner classes
Gateway club
Junior Curling
disability curling
We currently have 4 ice hockey clubs based at the ice rink, and Caledonia Ice Skating Club provides lessons for this discipline.
Moray Junior Ice Hockey Club
All players are made extremely welcome to Moray Junior Ice Hockey Club regardless of age or ability. The club was formed in 1992 and runs a Learn to Play Session to enable new players to build confidence and skills before competing in games. Ice hockey is the fastest team sport in the world and the coaches volunteer their time to help players improve and ensure that the game is fun and safe.
Scottish Ice Hockey in the governing body for the sport in Scotland.
They administer junior, senior and recreational levels and their aim is to sustain participation and to ensure the development of the sport for everyone involved – players, coaches and fans.
RAF jets Ice Hockey Training
Although a team representing RAF Lossiemouth, all are welcome and they have plenty of non service personnel playing for the team.
We currently have two figure skating clubs based at Moray Leisure centre
Moray Figure Skating Club
Moray Figure Skating Club is a well established club based at our ice rink. The Club regularly hosts shows, competitions and events.
Caledonia Ice Skating Club
Caledonia Ice Skating Club provide skating lessons for all ice skating disciplines; Hockey Skating, Figure Skating, Synchro Skating, Ice Dancing, Pairs Skating, Adult Skating and Recreational Skating. Whether a complete beginner or an international competitor the club can assist with your ambitions and goals.